Back in March, I received an
e-mail
from a reader announcing the release of White's New "Nomad" Engineer Boots and the fact that he placed the order immediately. Well, the boots have finally arrived and here's his comprehensive review.
Thanks for the contribution "jimmer"
I just got a pair of boots that I have been really anticipating. I was one of the first people to order a pair of the new White's Boots "Nomad" Engineer boots when they were released three months ago. they just arrived on Friday, and I have to say, I am very impressed. Since I also own a pair of Wesco "Boss" engineer boots with similar specs, I will compare and contrast these boots in my review.



www.vintageengineerboots.com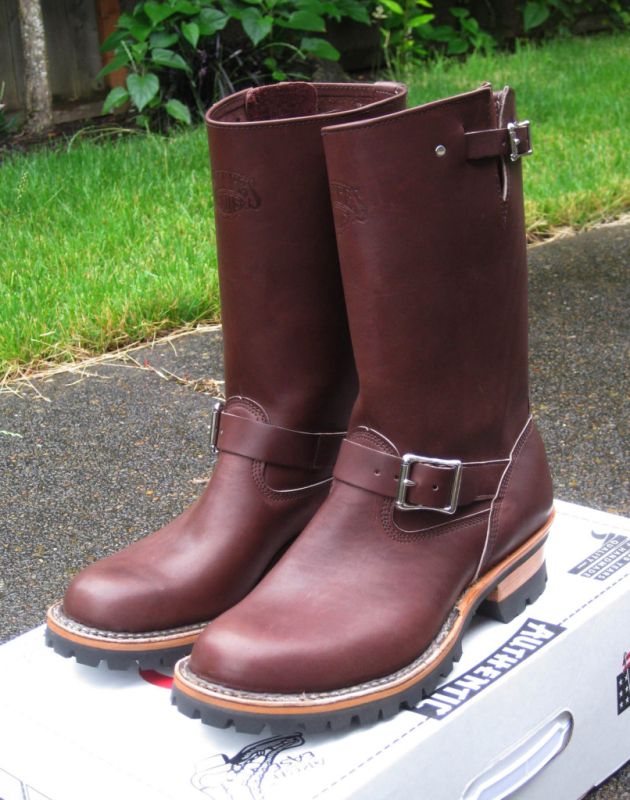 Overall, these boots represent the standard configuration with brown leather instead of black. I chose to go with White's standard brown 7-8 oz leather for this order. It is thick, but not overly stiff, and the color is a pleasing shade of brown - not too dark, not too light. The leather is a bit on the dry side, but it came with a container of White's boot grease. I think I will hold off on greasing these up for a bit since I like the color so much. The boots are triple stiched, and the stitching is straight and tight. Overall, the workmanship is excellent - I have been very pleased with White's quality in general. Both buckles are nickel colored roller buckles - the instep uses a 1 inch buckle and the calf uses a 0.5" buckle. Some might feel that the 1" instep buckle is a bit large (Wesco's use 0.75" buckles), but it does not bother me. The toe is a nice round 50's profile, just slightly less round than the standard Wesco Boss toe. It looks great, and it features a standard celastic toe box to help it keep it's shape ( I personally like the hard toe box). I would say these boots are a 50's style engineer boot, but it would be easy to ask for a different toe profile and to have the celastic toe box removed if you want more of a 1930's - 1940's look.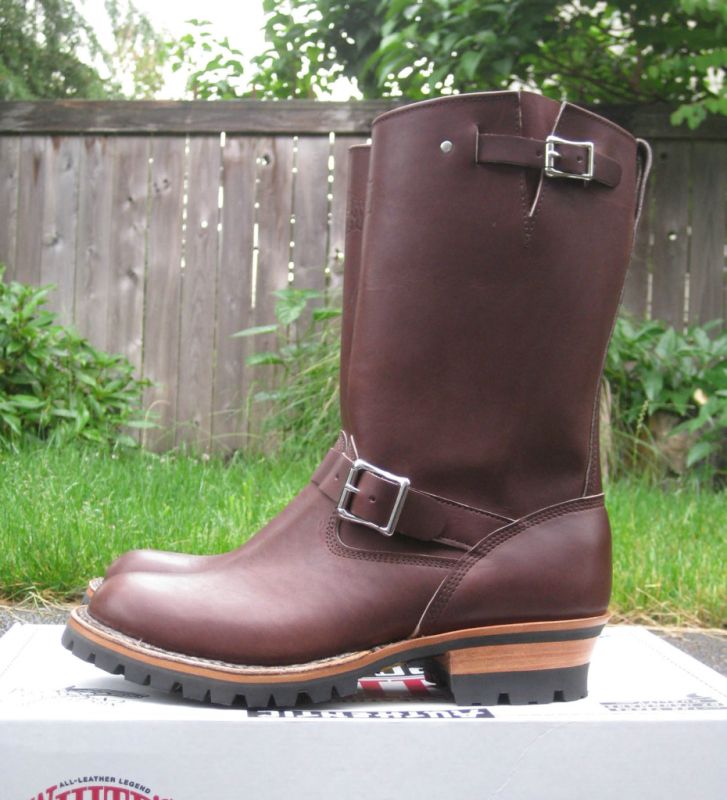 I ordered the same size I wear in a Smoke Jumper, and the fit is spot on. They feature White's "Arch Ease" high arch support, which I like, but it may take some getting used to for those who have not experienced it. The only fit issue I encountered is that these boots come with foam insoles (like Wesco), and the boots were too tight until I removed the insoles. When I took the insoles out, they fit exactly like my Smoke jumpers (which do not come with insoles). I think the lasts they use for these are virtually the same as the Smoke Jumper, so if you order your usual size, the foam insole may not work for you. On the contrary, my Wesco Boss boots fit perfectly with the insole, but would be too large without them.






One major sucess is that the boot manages to be easy to slip on, yet it still cups the heel to help prevent heel lift. I was really hoping this would be the case, and this is a huge improvement over the heel fit of my Wesco's. My only real gripe with my Wescos has been that the heel fit is sloppy in width, and it does not cup around my heel. Even being well broken in, I experience sloppy fit in the heel and heel lift in my Wesco's. The White's are a huge improvement, and for a pull on boot, this kind of fit in the heel is very important. I see this as a big advantage for White's. White's takes a lot of care to make sure your boots fit right - they ask for measurements, and if you walk into their store in Spokane, they will sit you down and measure your feet with a cloth tape. To contrast, I drove up to the Wesco factory and asked for a fitting, and the guy there seemed a little surprised. He searched around for a pair of boots in my size, had me put them on, and asked how they felt. That was the extent of it. The people at Wesco are great, and they make a wonderful product, but I think that at this price point a little more care with the fitting would be appropriate.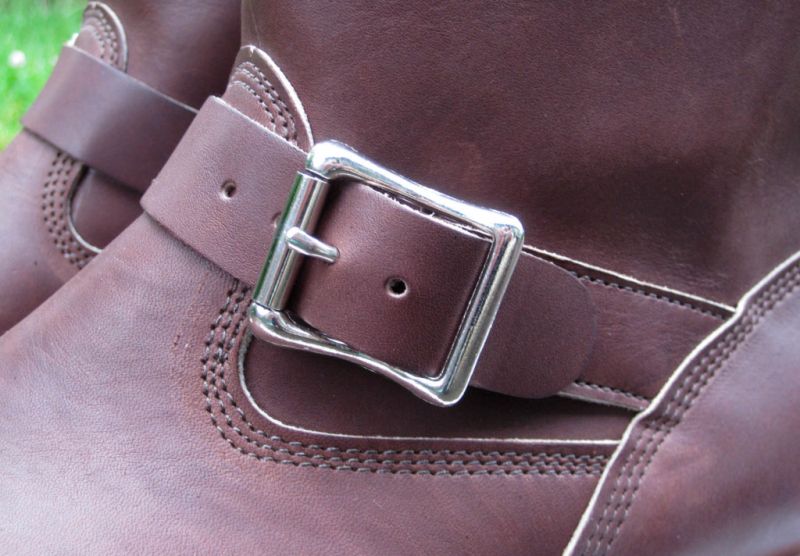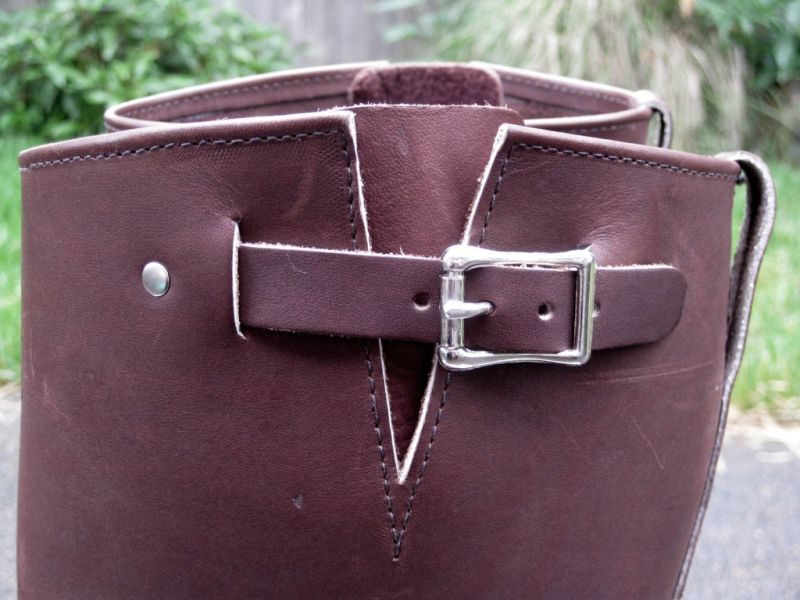 In any case, the new White's are great boots, and I think they give Wesco a real run for their money. With Wesco's recent price increase, these boots are even a bit cheaper (although I think with some options they will even out). I will post more info as they break in, but I am very pleased with these boots and highly recommend them to anyone who wants a solid pair of 50's style engineer boots. As soon as my bank account recovers, I will definitely be ordering a second pair - this time in Red Dog leather with double midsoles and Vibram 705 half soles.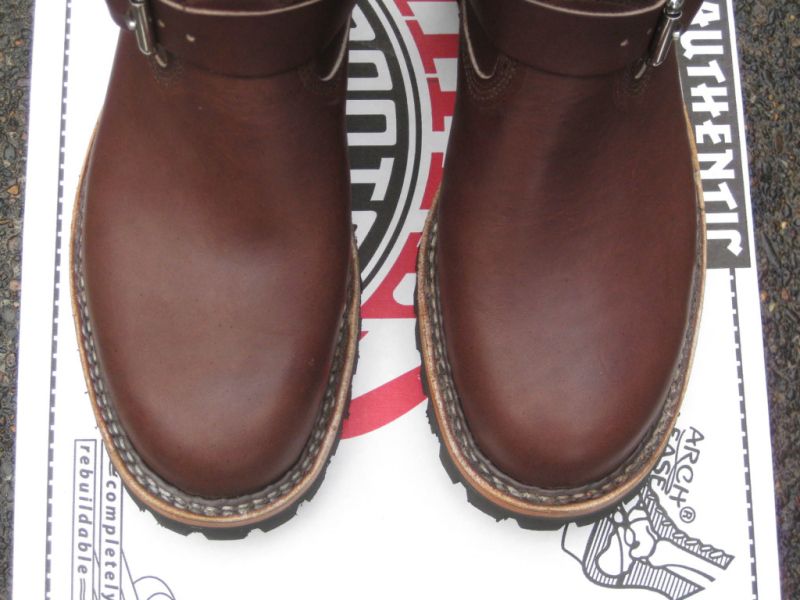 Comparison with Wesco Boss (standard toe)



Wesco Boss