Hi John,
If possible I would love to pick your brain about the Road Champ and the Attractions engineers. Would you say sizing is the same between the two boots? In terms of quality, would you say the Attraction is inferior to the Road Champ? I am trying to justify the extra money for the Road Champs. How did you order the Attractions boots? I tried to purchase them through the website and I can't check out. Did you email them directly? I love the design of both boots so it comes down to the minute details. Thank you so much for your time.
Best,
Joseph
www.vintageengineerboots.com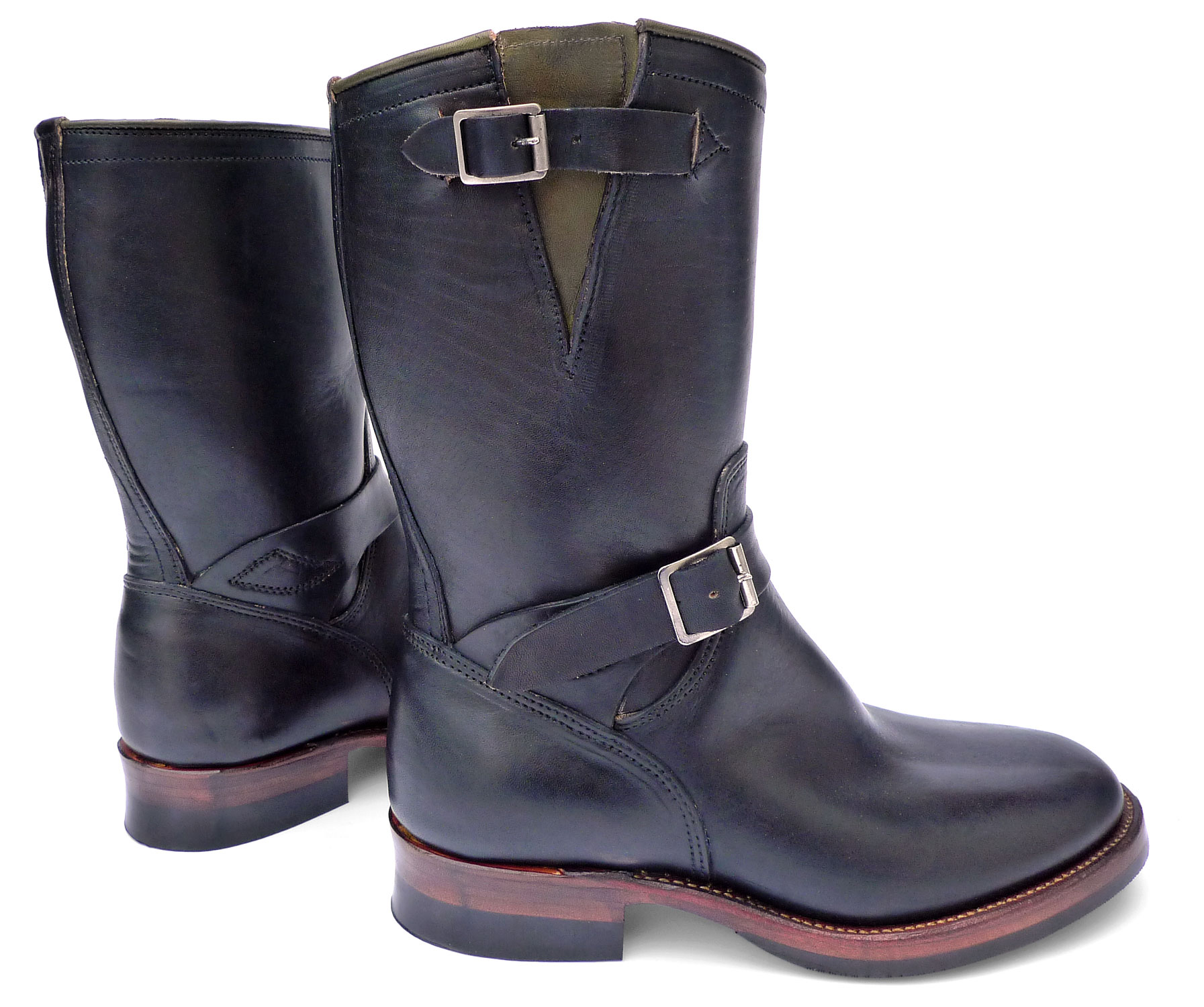 Hi Joseph,
Thank you for the e-mail! First off, if there are two brands of boots to be on the fence with it's these two -- good choice! The size 7 1/2 Road Champs are almost identical fit on me as the size 7 Attractions. In terms of quality, it's really a personal preference. The RC's were ready to go outta the denim bag (thanks to the select veg-tanned cowhide) with little to no break-in time and the leather molded to my feet and quickly became my go-to boots. They are super comfortable even without insoles.
The Attractions (also worn without insoles), on the other hand -- I'm talking the Horse Butt version, and the Steerhide version appear to be the same -- are made with stiff leather that are relatively more difficult to break-in regardless of how hard they are worn ... and I really like to beat up my boots. I've had mine for almost eight months now and they've developed some nice creases and patina, but will require much longer before they get anywhere close to becoming something I go to for comfort.
Mister Freedom
Size: 7 1/2
Heel to toe (with heel against wall): 11 1/4"
Width (at the widest points of the ball area): 4 1/8"
Height: 12"
Heel Height: 1 5/8" (highest), 7/8" (lowest)
After some cleaning and conditioning
Attractions
Size: 7 (Measurements to follow - I left them at work)
My only criticism with the Attractions boots are their lack of fluid foot movement due to the rigid soles. Every pair of boots out of the box naturally have stiff soles and ultimately loosen up and form to ones movement. I have yet to achieve this with these boots. I haven't been able to crack the code on it, but those who have ever worn
Creepers
know how stiff and unaccommodating they can be to the natural movement of the foot while walking. The Attractions boots, although made with your typical leather soles and composition half-soles, feel the exact same way. Perhaps it's the leather makeup, but after almost a year of wear I can't seem to walk in them without concerning myself with how somewhat awkward they feel to walk in -- heel ... toe, heel ... toe -- with no fluid walking motion anywhere in between. Leather can be shaped when exposed to water and I haven't had the opportunity to get caught up in a torrential downpour, but until then I won't force it.
Showing twenty six days of light wear
You'll be happy with either one of these brands in the looks department, but you may find yourself somewhat disappointed if it's comfort you seek. After the initial purchase of the Attractions Horsehide model, I was on the list pick up the Steerhide version, but never got anything back . This was a blessing in disguise as I shortly discovered the comfort glitch. I couldn't be any happier to know I'm on the list for the new black version of the RC's -- I'm happy to pay the extra two to three bills.
The choice is yours.
You can contact Wataru-San at info@attractions2006.com or Jordan, Cristian or Tom at sales@misterfreedom.com
Thanks again and I hope this helps you along with your decision.
Cheers!
John