What began as a simple return trip to the world famous red building on Beverly Boulevard ended up being a pleasant visit with Christophe and Tom. As one can expect, it's easy to get lost for hours looking through the
Mister Freedom®
archive of vintage digs as well as his insane original designs from past and present lines, but finding myself immersed in conversation with such a down-to-earth gentleman made me forget where I was.
www.vintageengineerboots.com
On my first trip, I picked up a pair of
Road Champ
Engineer Boots and on this second trip I went home with the "
Campus
" Leather Jacket, Lot 64 "
Californian
" Blue Jeans and
Mechanic Sweatshirt
. Boy, it was pretty difficult leaving behind a new pair of Road Champs, even going so far as trying to sell Jillian on letting me buy her a pair.
Shot with Christophe's vintage camera
Day 1 of my sun tanning
I've been on the hunt for a Cossack or A-1-style jacket for many years and have considered pulling the trigger on various available options numerous times, but the moment Christrophe announced his Campus jacket it was a no-brainer.
I've worked with every type of leather imaginable and hand-dyed/sun-tanned natural cowhide a number of times, so I consider the Campus to be a leathercrafters dream jacket. Christophe made the jacket and it's now my job to bring out its attitude.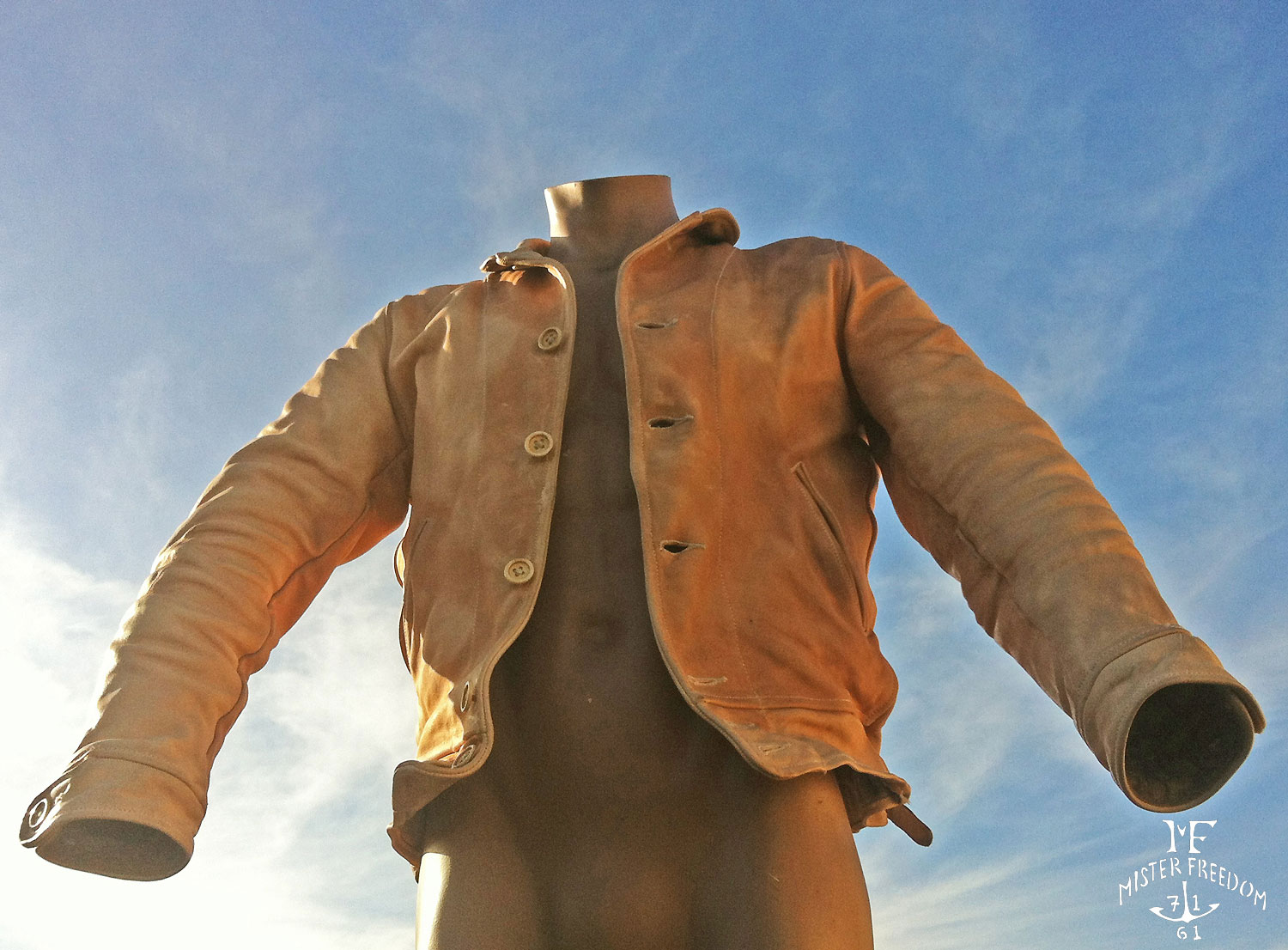 A super example of what I can look forward to
I plan to document the evolution of my jacket from the initial tanning and wear to various products used for protecting and finishing the leather, so be sure to keep an eye out. I will also be posting updates on my Instagram at
http://instagram.com/vintage_engineer_boots
.