My Rugged All Terrain (RAT) boots were one of three pairs of boots I brought with me to Afghanistan.

You always have to bring extra boots to combat just in case.

At first, I thought these boots were an eyesore, but they definitely got me through the heavy rains and sloppy mud during my mile walk (each way) from my living quarters to my work area.

I got over their lackluster aesthetics very quick.
My RAT boots next to my well worn Infantry Combat Boots (on its third combat tour).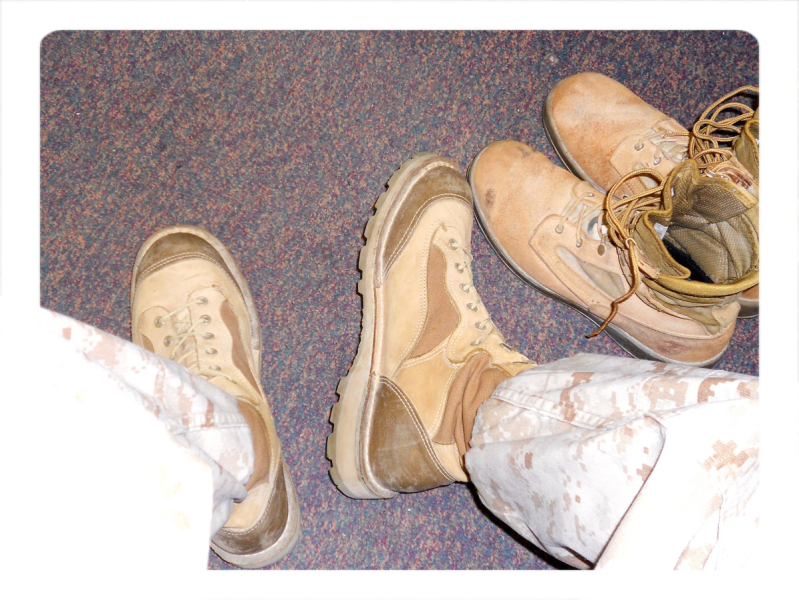 Apparently, the boots are known to fall apart and are doing so while in combat.

Either I received a pair from the "good batch" or altering the wear of my boots mask their defects, but I love these boots and have had no issues.
I've wanted to have a pair of my boots resoled by Okuyama at Hukurokuju for some time now and I think these fit the bill.
Here's a blurb from the Marine Corps Times:
The Marine Corps is recalling more than 8,000 of its new rugged all terrain boots - many of them being worn by troops in Afghanistan - after reports they are falling apart in the field.
Problems with the hot-weather RAT boots include separation of stitching and glue at the seams.

Eyelets that allow the boots to breathe and drain water also are falling off.
"These failures are not due to the RAT boot's design, but its manufacturing process and improper materials used in the manufacturing of the boot," LtCol Kevin Reilly said, the program manager for infantry combat equipment at Marine Corps Systems Command in Quantico, Va. "That's what caused a durability issue."
The RAT boot is set to become the Marine Corps' new standard, with plans to add it to the sea bag in 2012. It will replace the Infantry Combat Boots that Marines have worn since 2002.
About 8,000 of the recalled boots, manufactured by Michigan-based Bates, have been issued to the "operating force," although it was not immediately clear how many of the boots are being worn by Marines in Afghanistan.
Hot-weather RAT boots are also produced by Danner, but to date the Marine Corps has purchased only Bates' version. The contract for Bates' boots includes 105,000 pairs. About 67,000 were delivered before these defects were discovered and delivery was halted.
Defects with the boot first surfaced in February (2011) after members of 1st Battalion, 5th Marines, began reporting durability issues during pre-deployment training at Twentynine Palms, California. The battalion recently returned from operations in the Sangin district of Afghanistan's Helmand province.
The Marine Corps stopped delivery of more hot-weather RAT boots produced by Bates and has begun working with the company to correct the problem, officials said.
Temperate-weather versions of the boot, produced by Danner and Welco, are also excluded from the recall.
When the heck are they bringing Boondockers back!?!?